TRANSLATION SERVICE
The Translation Service of Alliance Française de Pondichéry offers quality translation services. In the UT of Puducherry, it is the only translation service authorized to officially certify translations for the French Embassy in India, the French Consulate in Pondicherry and the FFRO.
The Translation Service gives equal importance to all projects it receives. It delivers professional and high quality translation work. The Translation Service adheres to a strict code of confidentiality.
Keeping in view the latest notification on COVID19 as announced by the Ministry of Health of the Indian Government, Alliance Française de Pondichéry will also continue its translation unit online as per guidelines set up by the Health authorities for letting employees work from home until further notice.
Please send your documents to [email protected] and then proceed to pay in order to begin the service. There are Two payment formats.
1_BANK DETAILS FOR ONLINE NEFT TRANSFER
BENEFICIARY NAME : ALLIANCE FRANCAISE DE PONDICHERY
BANK NAME : UCO BANK
BANK ADDRESS : NO 59 RUE MAHE DE LABOURDONNAIS
ACCOUNT TYPE : CURRENT A/C
ACCOUNT NO : 00590210002476
IFSC CODE : UCBA0000059
2_BY QR CODE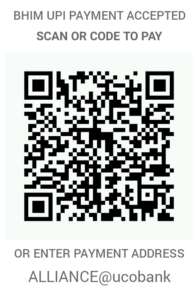 You can choose to receive the documents by :
Picking up the document at the entrance gate of Alliance Française 9:00 am to 1: 00 pm & 3:00 pm to 7:00 pm
by email (scanned ): Rs. 50 per copy per document (Kindly add scan charges in advance along with your translation fees) 
*For urgent translations (one working day)  there is an extra 50% on the standard rate.
Listed below are our basic prices for different types of documents
DOCUMENT TYPE
TRANSLATION CHARGES *
Certificates- Indian Birth/Death

Other Nationalities (Birth/Death/CNI/Family Booklet/Aadhar/VoterID, Ration Card, Driving Licence, provisional certificate and other cards)

Rs. 300/page + GST 18%

Rs. 400/page + GST 18%

Certificates & Letters (Marriage/College/Divorce/Experience)
Rs. 600/page + GST 18%
Certificates (educational mark list/Judgment/ CNF
Rs. 900/page + GST 18%
Technical & Tamil docs (contact translation unit for quotation)