Depuis le 11 mars, l'Alliance Française de Pondichéry est heureuse de vous annoncer l'ouverture de sa nouvelle médiathèque, inaugurée en hommage à M. Jean

Deloche

, enseignant-chercheur, indianiste et correspondant de l'École française d'Extrême-Orient à Pondichéry. Nous vous invitons à visiter cet espace de lecture, d'apprentissage et de découverte, à vous perdre dans ses multiples rayons qui sont tout autant des chemins de traverse que des invitations au voyage et au rêve. Entièrement rénovée par l'Atelier Design, la nouvelle médiathèque allie héritage architectural et aménagement moderne, dans un style épuré et lumineux.
Avec plus de 10 000 documents, la médiathèque de l'Alliance Française de Pondichéry est l'une des plus importantes – et la plus ancienne – du réseau des Alliances Françaises en Inde. Combinant nouveautés et classiques, elle est fournie en romans en tous genres – francophones, anglophones et tamouls – mais aussi en livres d'art, de sociologie, d'histoire, de philosophie, de géographie, de voyage… Nous mettons à disposition différents journaux et magazines en français, ainsi que des manuels pédagogiques pour celles et ceux qui souhaitent se préparer aux examens du DELF.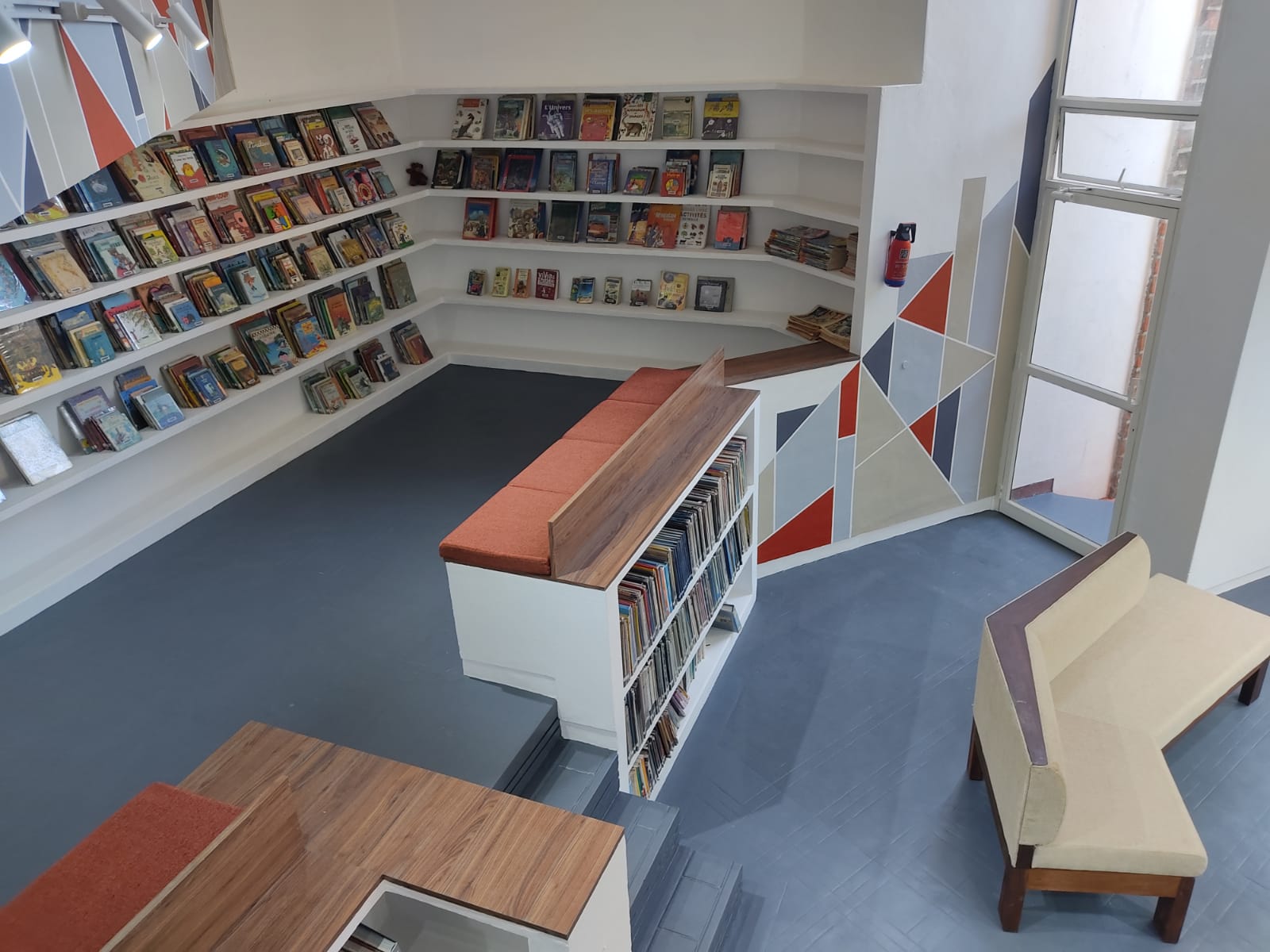 Le rayon jeunesse est également riche en documents, albums, bandes-dessinées, très appréciées des jeunes lecteurs. Les enfants ne manqueront pas de feuilleter leurs magazines et revues préférés, tels qu'Okapi, Le Journal des Enfants, ou encore J'aime Lire.
Véritable plus value de la médiathèque, l'espace multimédia compte une dizaine d'ordinateurs, tous connectés à Internet et fournis en logiciel d'apprentissage du français, de l'anglais et du tamoul. Une grande télévision et une PS4 complètent l'ensemble.
LIBRARY FACILITIES
Learner's library section: Books classified into A1, A2, B1 & B2 level helps students to choose books based on their level in French
New arrival: New books and DVD's are added to the library's collection every month.
Subscription to 8 leading press from France for adults and kids (Le Monde, L'Express, L'Obs, Ça m'interesse, Santé magazine, J'aime lire, Le Journal des enfants & Okapi)
Kids section: Comics, novels for adolescents, albums, folktales, story books, science books and French made easy books.
Culturethèque: The online digital library of the French Media libraries, with free access for its user i.e. annual membership holders and the students of Alliance Française. For more info : http://www.culturetheque.com
RFI (Radio France Internationale) available in AFP library since 2013. Students and members of AFP can listen to RFI anywhere inside the library with the help of wireless headphones.
TV5 monde: A separate TV is installed in the AFP library to broadcast the International French channel throughout the day.
DELF section: All DELF preparation books are available in this section.
Indoor games: Chess, Carrom are available at our library.
Media Library: Self Learning Software, Games PS4, Culturethèque, Internet access, Songs & Movies.

Deposit : 300 INR per book (2 books max) / 200 INR per DVD / GST including.

You can participate in the life of the Alliance Française de Pondichéry by becoming a member. This will give you an access to all the facilities like the Media Library (Culturethèque, litterary workshops), cultural events, film, shows and special evenings reserved exclusively for bonafide members.